DANCEHALL 11
Edition of journal staged across objects and performances at Castlefield Gallery, Manchester, 2015
Psykick Dancehall, Brief things. Modular platforms, plywood, dimensions variable. Installed as part of DANCEHALL 11, Castlefield Gallery, Manchester, 2015.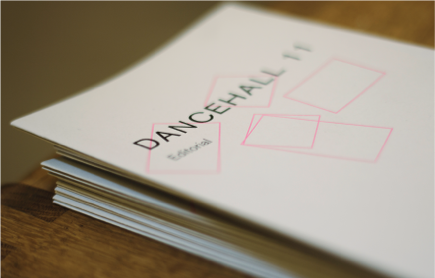 Psykick Dancehall, Pages and pages (Editorial). Performance and risograph edition produced for DANCEHALL 11, Castlefield Gallery, Manchester, 2015. The publication can be read in full here.
In 2015 Psykick Dancehall staged the 11th edition of DANCEHALL as an exhibition at Castlefield Gallery, Manchester. The project addressed the politics of listening, informed by an attentiveness to forms of communication and cohabitation that escape normative models. Considering publication as a mode of production, the exhibition explored the relationship between the page, the gallery space and live event.
Artists were invited to present work across different mediums, with performance, moving image, sound, physical installations and other interventions from Katherine Macbride, Giuseppe Mistretta, Rebecca Wilcox and Amelia Bywater, Tom White and HELLO magazine (Rosalie Schweiker & David Morris) with Louise Hobson.
Within this, Psykick Dancehall also made two contributions. Brief things were modular, reconfigurable platforms within the gallery, that hosted performances: like the journal itself, they were an invitation to others and a meeting point, encouraging new kinds of collaboration between the artists involved. Their presence also served as a reminder of the links between exhibited works and performances.
Pages and pages was a text for publication and performance. This was conceived of as an 'editorial' that reflected upon the shared preoccupation that brought the artists of DANCEHALL 11 together, with how sound inflects our relationship to our surroundings and to each other—and upon our role within the show and the DANCEHALL project more generally. The text was published in a risograph edition and formed the basis for a performance during the exhibition.